You don't always have to face your journal pages with a blank mind. Sometimes, it's fun to let go and find inspiration somewhere else.
In this post, you'll find 50 bedtime journal prompts to help you put your thoughts to bed.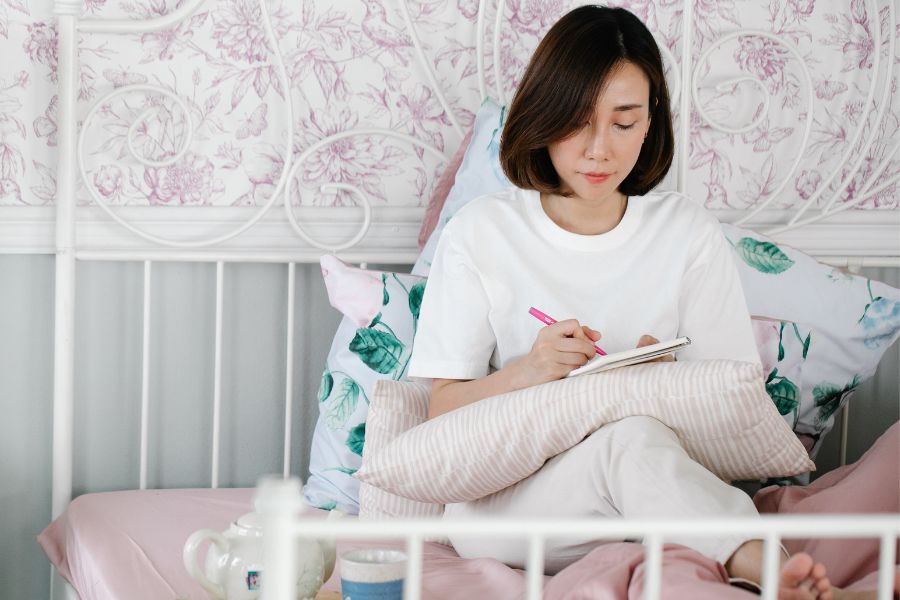 OVERVIEW
Why Bedtime Journaling Is Important
Journaling before you sleep can help you in a ton of different ways.
It's not just a way of relieving yourself of stress, but can also be a medium to reach your higher self.
Here are some important reasons why you need to start night journaling. 
1. Daily Reflection
It's good to let go of the past, but it's better to first learn from it.
Journaling at the end of the day allows you to look back on your time, and see how well you did.
You get to examine the weak hours of your day and see what brought you strength.
This makes you strive for a better tomorrow, and also helps you put your day to rest.
2. Inspiration
Through journaling, you connect to your inner self. And in doing so, you invoke the desire in you to do well in life.
Bedtime journaling inspires you to look after your health, grow in your career, and care for your mental state.
3. Thought-Provocation
Journaling is a sacred act, through which you communicate to your inner self in privacy. There is nobody who can interrupt you in this process.
This makes you write honestly, and express yourself freely.
This brings in self-awareness, and realizations that you might otherwise miss out on.
4. Self-Care
It can be hard to look after yourself while rushing through your day. When night falls, you deserve to give prioritize yourself above all.
Night journaling is a beautiful form of self-care. It reminds you of your own uniqueness and importance.
And most importantly, it reinforces the fact that the rest is just noise.
You might like: 7 Types Of Self-Care (And How To Practice Them For A Better Life)
5. Goal-Setting
Creating a vision for your future is important. And journaling is the best way to map out your future.
Writing down your goals increases your chances of success.
It inspires you to work harder toward your goals, both long-term and short-term.
That's why it's good practice to plan for the next day in your bedtime journal.
50 Amazing Bedtime Journal Prompts For A Quiet Reflection
Bedtime journal prompts are perfect to stir your imagination after a tiring day. They can help inspire unique topics for your journal entries.
Now, your night journal entries might be focused on how your day was, or you might choose to plan for tomorrow.
And if you're not in the mood to plan or assess, you might just want to write to yourself and see where the entry goes.
That's why I've divided these prompts into 5 categories. Each one focuses on different kinds of entries that you can create during your bedtime.
There are prompts to help you reflect on your day, inspire you, stir your thoughts, help you practice self-care, and plan for the next day.
Have a fruitful journaling session. 🙂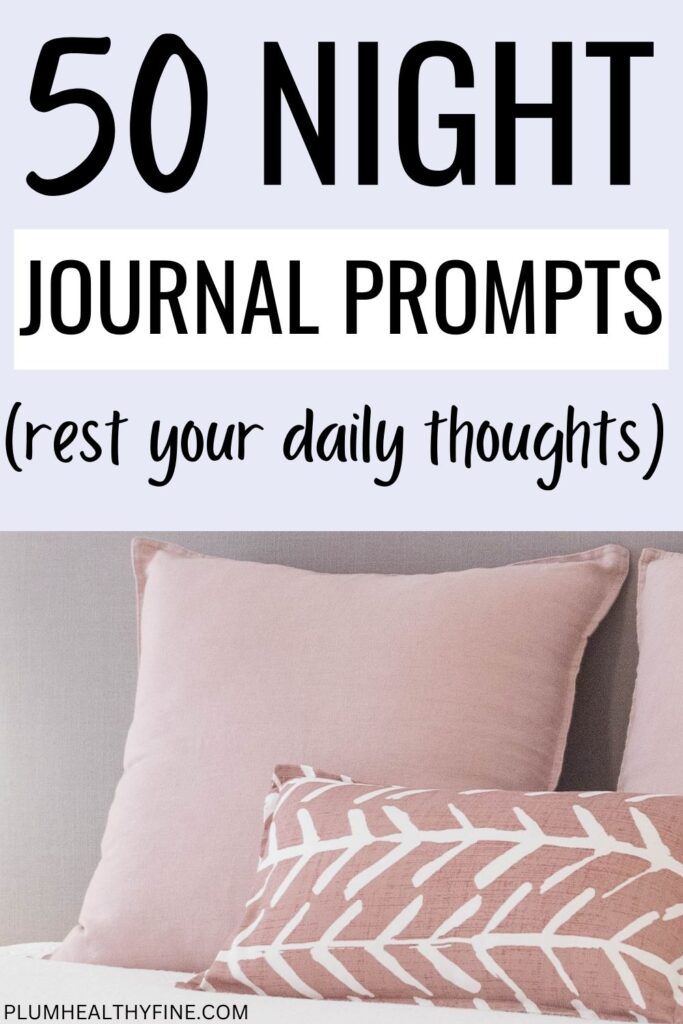 BEDTIME JOURNAL PROMPTS TO REFLECT ON YOUR DAY
1. What did the first two hours of your morning look like?
2. Name one thing you liked about yourself today.
3. What was the best part of your day?
4. Write about a moment that you did not like.
5. Doodle random things you remember from your day.
6. Describe your day in five words.
7. What's your takeaway from today? (Every small and big lesson counts.)
8. Who was your favorite person today?
9. What made you smile?
10. Draw something inspired by nature, that best portrays your day.🌈
Related Post: 10 Simple Ways To Improve Your Nightly Sleep
BEDTIME JOURNAL PROMPTS TO INSPIRE YOUR INNER SELF
1. Write a quote that's always held deep meaning in your life.
2. Name your favorite flower. Which value does it add to the world, and which of its qualities would you love to have in your personality?
3. What are the three goals you want to chase this year?
4. Earth, water, fire, air, and space. Which of the five elements do you most connect to?
5. How do you perceive the term personal growth? How do you plan on inculcating it into your life?
6. Write an entry to your future self, keeping in mind a particular year. Why do you think you picked this timeline?
7. Create a journal entry on a fictional character who deeply inspires you.
8. What's your vision for the next five years? Map it out using short words, paragraphs, and drawings.
9. Make a list of everything and everyone in life who inspires who. Fill this entry with colors and stickers.
10. Draw a bright and smiling sun. Write the first word that comes to your mind afterward. 🌞
You Might Like: 51 Fitness Journal Prompts For Good Health And Wellness
BEDTIME JOURNAL PROMPTS TO STIR YOUR BEAUTIFUL THOUGHTS
1. If you were to paint your hand, what colors would you include? Make patterns on your journal page, using those same colors.
2. Write about your most-cherished memory from the past.
3. What are you thinking at this very moment?
4. Do you think you're kind to yourself? If not, why not? And how can you be better at this?
5. What does your mental happy place look like? What's the closest sight to it that you've been to in real life?
6. What's the last dream you remember?
7. Write a gentle letter to your past self. Mention the ways in which you and your vision for the future have changed.
8. What is something you are holding on to, that you need to let go of?
9. If you could choose to be with someone right now, who would it be?
10. Draw an umbrella in your favorite color. Write three words next to it that spring to your mind. ☂️
BEDTIME JOURNAL PROMPTS FOR NIGHT SELF-CARE
1. What does self-care mean to you? How do you practice it in your life?
2. Three things that you are grateful for tonight, at this very moment?
3. Write about the last two hours. Were you able to spend them the way you wanted to?
4. Rate your emotional state on a scale of 1 to 5. What can you do to raise this number right this second?
5. What does your ideal night self-care routine look like? Are you following it every day?
6. What do your emotions look like right now? Use words and drawings to communicate with them.
7. How is the sky outside tonight? Describe how it makes you feel.
8. Create a nighttime reading bucket list.
9. Are you enjoying spending time by yourself at this moment?
10. Fill your journal entry with pretty stars and a moon in any one of its phases. Write whatever comes to your mind after you're done drawing. ⭐🌙
Highly Recommended: How To Create The Best Self-Care Night Routine
BEDTIME JOURNAL PROMPTS TO SET YOUR INTENTIONS FOR THE NEXT DAY
1. How do you want tomorrow to look?
2. What are the three things you would absolutely love to do?
3. Is there a short mindful activity you can include in your morning? Write it down, and mention how it might set the tone of your day.
4. What are you looking forward to?
5. Create your meal plan for the next day. Include one thing that you love eating. Also, add at least one healthy food for your body.
6. What emotion do you want to wake up with tomorrow?
7. How can you improve your
8. Describe your ideal morning routine, and plan to make it happen the next day.
9. Who is the one person you want to meet tomorrow? Why?
10. If the word 'determination' had a face or shape, what would it look like? Draw using patterns and figures. 💮
For a better journaling experience, here are some basic journaling tips that will change your writing experience, for the better.
Some Cute Tips For Bedtime Journaling
1. Use colored pens to inspire creativity
The more colorful you make your entries, the more pleasing they'll be to your eyes. And pleasant sights invite creativity, which is a beautiful essence of life.
2. Invest in a feel-good journal
Your journal is one of those things that represent you the best.
Even if you won't be showing it to yourself, self-expression matters. So, make sure you have a bedtime journal that makes you feel good.
Nothing is more contentful than putting away a pretty journal, after a mindful session of writing at night. In my opinion, it's the best way to go to bed.
3. Buy some cute stickers
There are some cool journal stickers available online.
Buy a set that speaks to the tone of your journal, and use them to enhance the look of your entries.
4. Light up scented candles
Make your journaling experience more pleasant, by lighting scented candles.
It creates a beautiful ambiance and adds more meaning to your bedtime routine.
Scented candles are also great to relax your mind, and relieving any stress you might be carrying from your day.
5. Play soothing music
Music is known to change people's world. It's powerful enough to heighten and even change your emotions.
When journaling at night, play your favorite music to help you connect with yourself better.
Consider creating a playlist dedicated to your nightly journaling activity. It'll come in handy on nights you want to combine journaling with music.
6. Practice skin care before journaling
Take a shower using your favorite body lotion.
Cleanse your face, apply a toner, and moisturize your skin. And then sit down with your journal for the best night-care experience.
This is a tip you can repeat every night to feel amazing.
7. Be kind to yourself in your entries
Your journal is a way to communicate with yourself, and it won't do you any good if you act harshly in it.
Express your weak points, and write about your weak areas, but always, always end on a kind note.
Remember that kindness inspires self-love, which is the ultimate key to thriving in life.
Journaling At The End Of The Day Brings Mindfulness
And it's an experience you shouldn't miss out on at any cost.
Create a habit out of it, and you'll see the changes it brings to your mindset.
You'll become more positive, feel more inspired, and be connected to your thoughts.
Tonight, make use of some of these bedtime journaling prompts, or create some of your own. As long as you are writing, you are winning. 🙂
Enjoyed the post? Leave a comment behind. It's always good to hear from you.