Fitness journal prompts can be life-changing for your health. They are great to inspire positive changes in your body, make you self-aware, and take a kinder approach to your physical health.
Use this collection of 51 journal prompts to work on your fitness and raise the bar of your wellness meter.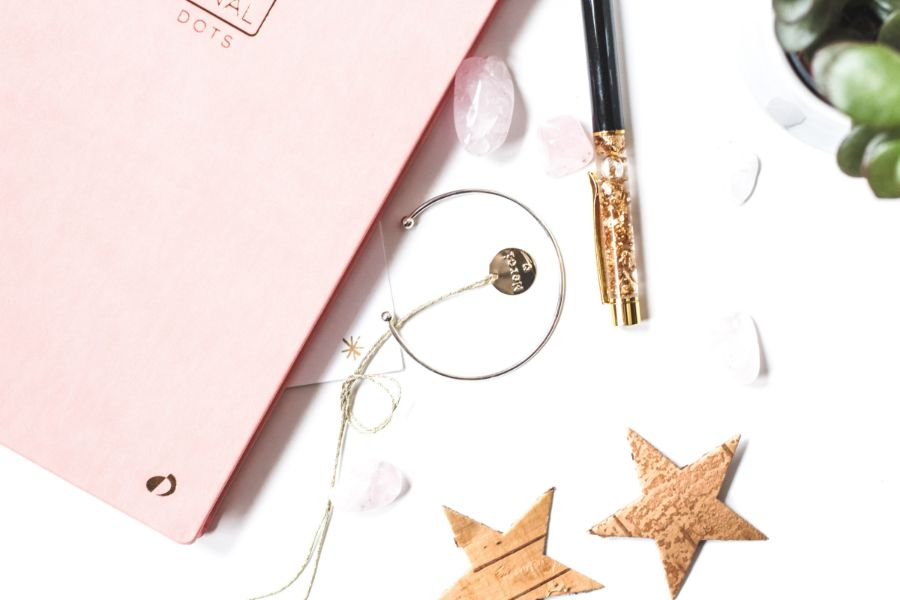 Everything You'll Find In This Post:
Fitness is a hot topic of conversation around the globe. As people become aware of the importance of health maintenance, the need to work on their bodies becomes more prominent.
It makes me super happy when I see people jogging, looking up healthy recipes, and cultivating self-love on their quest for wellness.
Though fitness isn't without its own challenges.
Working toward your health goals can be a lonesome process. It has its own ups and downs, that you might struggle to describe to even a close friend.
When you don't see any (visible) results, and find yourself getting tired and lazy (which, being humans, is completely natural), it can be hard to keep your motivation running.
That is where fitness journaling comes in (a.k.a. my current best friend in the health department.)
Fitness Journaling
About two years back, I got re-introduced to the realm of journals. There were many important lessons I wanted to unlock through journaling, and countless thoughts that I needed to touch upon.
But I knew my health had to be at the top of this very messy, but beautiful pile of topics I wanted to write about. And it's amazing what a grand load of a difference it made to my life.
I was able to fix my sleep routine, stay consistent with my workouts, and create some beautiful eating habits.
A fitness journal is a great tool that helps you keep track of your health goals and also accomplish them (for real.)
When I started out with this activity, I loved looking up health journal prompts, which is a perfect way to unlock your hidden aspirations.
After many nights of journaling and soul-searching, I've come up with some thought-provoking questions that are amazing for anyone looking to get fit and healthy.
Related Post: 50 Bedtime Journal Prompts For A Quiet Reflection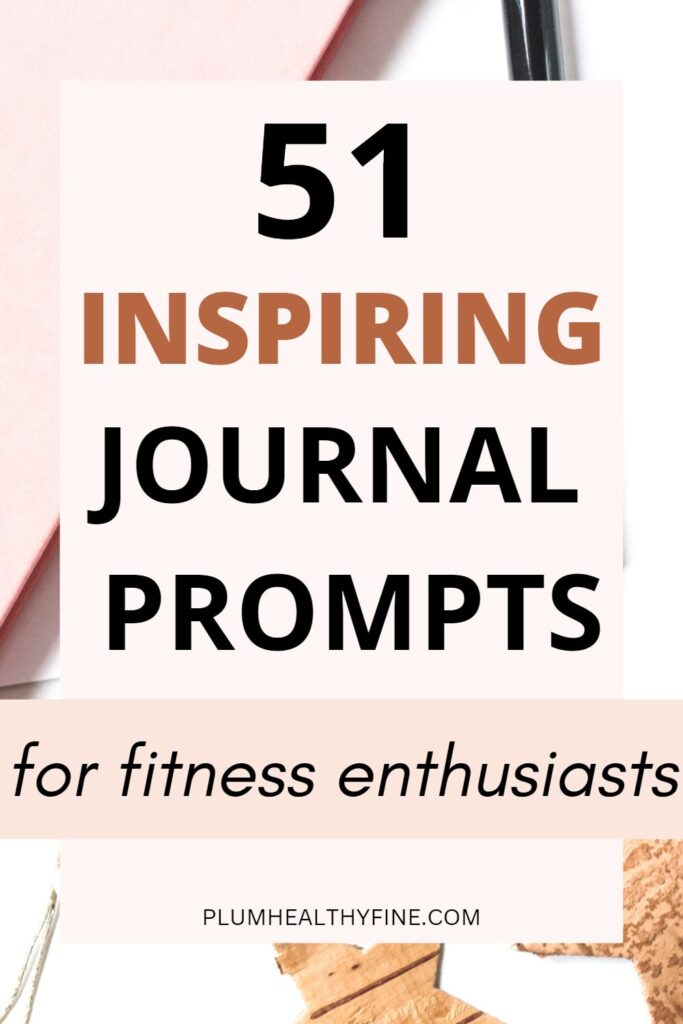 This post is all about fitness journal prompts that will help you fill your health journal with good thoughts and self-love.
Let's dive right in!
51 Fitness Journal Prompts For Good Health And Wellness
Since I am the queen of categorizing (and over-organizing), I couldn't resist putting these prompts in neat little boxes.
These are the 5 categories of fitness journal prompts that we'll dive into today:
Healthy eating journal prompts
Wellness journal prompts
Mindset journal prompts
Weight loss journal prompts
Journal prompts for women
I wish you a fun time exploring these unique and quirky ideas. 😄
HEALTHY EATING JOURNAL PROMPTS
1. What are some positive reasons for you to eat healthy food?
2. Create your ideal meal plan, stick to it for a day, and then write down your experience.
3. What does the term mindful eating mean to you? How can you practice it every day?
4. What type of food choices do you want to be making for the rest of your life? What can you do to bring this vision to life?
5. How can you release your anxiety around food? (Suggestions: Journaling, avoiding banning food, mindful eating.)
6. How would it feel to be in complete control of your eating habits? What is stopping you from getting to this point?
7. What type of foods settle well into your gut, and what are the foods your body isn't fond of?
8. What is the value of vegetables and fruits in your life? Do you have enough of these in your house?
9. List down your bad eating habits, and come up with ways to fix them.
10. Draw cute little pictures of a fruit you like, then eat it before the day ends. 🍓
Related: 5 Gentle ways to heal your relationship with food
WELLNESS JOURNAL PROMPTS
11. Create a journal entry about wellness. What does this word mean to you and how do you want to entwine it with your routine?
12. What are your three principles to lead a happy and fulfilling life? Are you in harmony with these values?
13. What is the one point of your routine you really look forward to? Can you add one more moment of pure joy to your day?
14. Set your intention to do yoga in the coming week, and tick it off once you're done. Write about the experience in poetic words.
15. How does nature inspire you to live a green life?
16. Are you happy with your morning routine? What can you do to unlock its full potential?
17. Plan an ideal self-love day in your journal, then fulfill it on a weekend.
18. Write about your skincare routine. What are some practices you can add to help your skin? (Clue: Drinking more water, eating fruits, good products.)
19. What does a life centered around wellness look like to you? What can you do to start living this way?
20. Read quotes on wellness, and write down your favorite three. Decorate this page by drawing hearts around it. 💕
Bookmark to read later: How to attain an ultimate body wellness
MINDSET JOURNAL PROMPTS
21. List your top 3 priorities in life. Does health make it to the cut? If not, how can you raise its position?
22. Come up with a health motto, and use it in your entries as often as you'd like to.
23. Are you stressed about your health often? How can you stop feeling overwhelmed and be enthusiastic instead?
24. Do you try to fit yourself into certain clothes, or find clothes that glam up your body? Which one do you think is a better mindset?
25. What mindset would you like to adopt going forward on your health journey?
26. What is your go-to formula for self-inspiration? Can you apply it to your health?
27. Write a letter to yourself for some self-love and healing vibes.
28. What is the one thing from nature that motivates you to be healthy? (I love seeking inspiration from trees.)
29. How can you make yourself love working out?
30. Name three things that are perfect in your routine and three others that you'd like to improve.
A super-helpful post: How to change your mindset for healthy living
WEIGHT LOSS JOURNAL PROMPTS
31. What are the habits that are stopping you from losing weight?
32. Come up with a personalized weight loss action plan for the next three weeks.
33. What are three things about working out that you love? How does it make your body feel?
34. List down the benefits of losing weight that don't concern your appearance.
35. Which habits do you need to build to lose weight and keep it off for good?
36. How can you make yourself love your body irrespective of your weight?
37. What five gentle tips would you give to anyone who's trying to lose weight? Can you adopt these tips yourself?
38. Write about a past challenge that you overcame. How can you bring the same determination to your weight loss journey?
39. What are your negative reasons for wanting to lose weight? How is this mindset stopping you from getting to the end line?
40. Draw a smiley face, and write an uplifting message at the top of the page. 🙂
Related post: How to lose weight without exercise
JOURNAL PROMPTS FOR WOMEN
41. How would a healthy lifestyle add to your feminity?
42. Write about your current self-care routine. How can you make it more relaxing and nourishing?
43. How does being healthy add to your happiness? What are the activities that make you happy?
44. As a woman, what are the practices you want to add to your body care routine?
45. What is the thing about being a woman that you love the most?
46. What does your current body care routine look like? How can you improve it?
47. How do you plan to nurture a positive body image?
48. Create an entry listing everything you love about your body. (P.S: I find my eyes really pretty 👀)
49. Write down ten words that pop into your head when you think of the female spirit.
50. Are you in touch with your feminine desires? Write an entry on this.
51. Draw a figure that depicts your healthy womanly spirit.
Highly recommended: 10 Self-love habits every woman needs
How To Keep A Fitness Journal
Getting started with a fitness journal can be confusing.
There is so much regarding your physical health to keep track of. So many health reminders need to be revisited.
Not to forget, it can be hard to navigate through unaccomplished goals without turning into a self-critic. 🧐
When I started journaling, it took me 6 whole months to get a proper hang of it.
Now, I know just the right approaches toward fitness journaling that keep the process light and stress-free for me. I would love to share them with you. 🌺
If you're new to health journaling, or just looking for different ideas to explore, use these tips:
Invest in a journal that fits your personality.
Start by penning down your long-term and short-term health goals.
Every morning, set your intentions for the day by writing in your journal.
Plan your meals and exercise plan in advance.
Tick off every goal as you achieve it, and put a cross next to the ones you don't.
List down the reasons that stopped you from achieving a certain goal, then work on making it better.
Avoid self-criticism and negative self-talk. It doesn't help at all.
Use health affirmations to fill your entries with positivity.
Track your water intake, food, workouts, and sleep schedule.
At last, use fitness journal prompts to stir your thoughts and get yourself moving.
Recommended: An Honest Review of Chloe Ting's Summer Shred Challenge
There Are Many Benefits of Using Fitness Journal Prompts
A health journal is a true companion for your wellness journey, and fitness journal prompts are perfect to communicate with it.
They help you stay on your toes regarding your health and keep you inspired to try new ideas.
Also, isn't it amazing that prompts come straight from someone else who's also a fitness lover like you? It can be helpful to know that you are not alone in your journey.
Use these fitness journal prompts whenever you feel stuck, and are in need of a good morale boost.
Interested to relay your personal health story? I would love to chat! Drop a comment down below and I'd get back to you ASAP. 🤗