You know what they say about a woman who knows her true value – she's freaking unbeatable. Here are 51 best solo date ideas to get you started on a powerful journey of self-love.
I swear, self-dating, has never been more fun.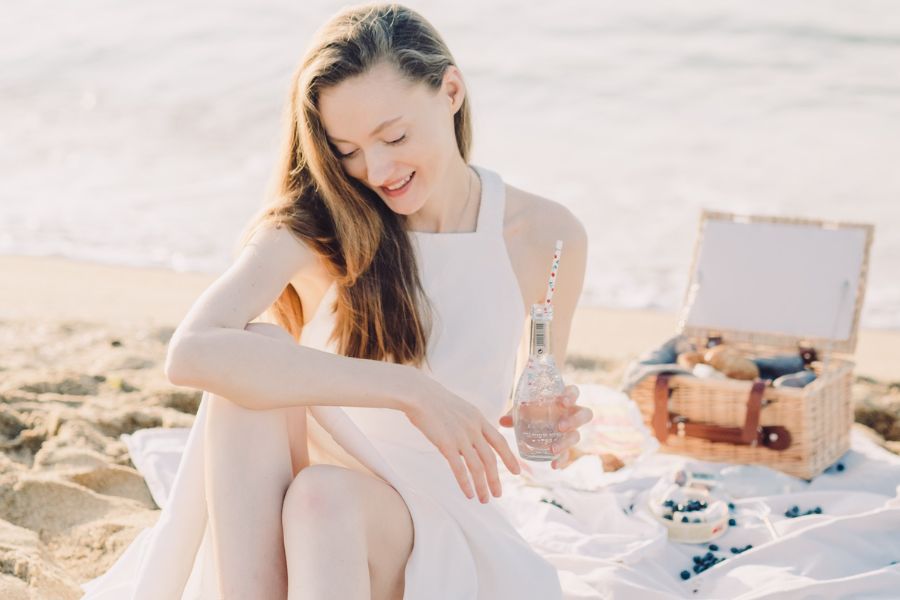 What You'll Find In This Post:
My Self-Dating Story
A few years back, while mindlessly strolling through my Youtube feed, I found a Ted Talk.
The topic intrigued me to click, and sit through 30 minutes of speech by a woman, who quite strongly, kept emphasizing the need to 'marry yourself.'
"Before committing to anyone else, you have to marry yourself first," she said.
Honestly, I was at a good place in my life at that time.
So, I tucked away those awkward words in my brain somewhere and didn't take them out until a year later, when my life was not so good anymore.
I was lost, scared, and confused about my path in life, and wasn't sure if things were going to work out for me.
Fortunately, I found it in me to seek the road of 'self-care' and 'self-love' that everybody seemed to be talking about.
Self-Love Changed My Life
After a failed attempt at a relationship and several broken friendships, I decided to quietly retreat to myself, and get to know myself better.
I mean, I needed someone to nurse my wounds, and who better for the job than myself?
Looking back, I can easily say it was the best decision of my life. I didn't give this thing any label back then, but I see now what it was.
I was, in a way, dating myself! And that's the message I'm hoping to inspire in you today.
By dating myself, I was able to recreate myself and my vision of life. And I really, really want women out there to experience this on the same level.
If I manage to perk up even a single of my readers with this idea, I will consider my goal a success.
Why Date Yourself?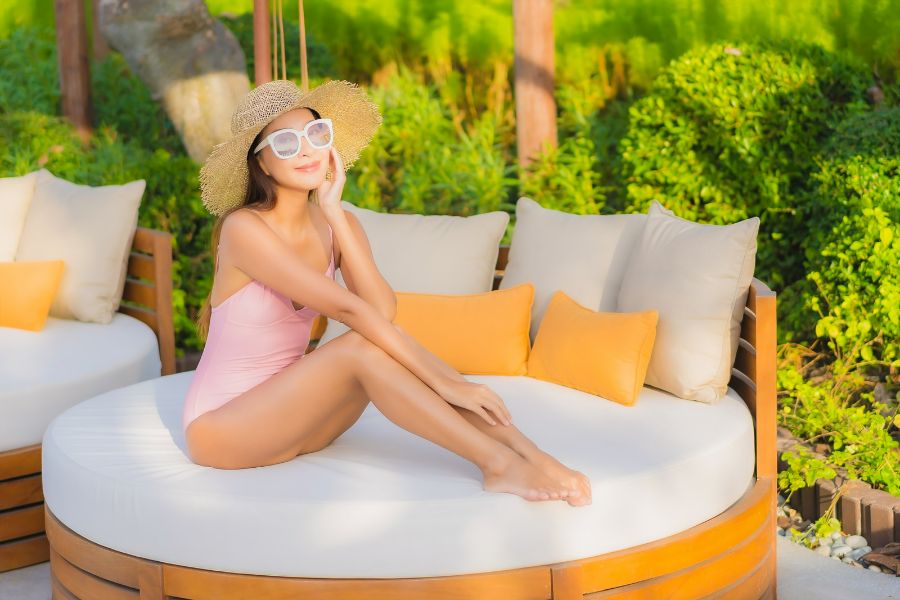 I am going to give you a couple of good and powerful reasons to date yourself, hoping to convince you to give self-dating a shot.
You need to date yourself, because:
You have been a constant companion to yourself throughout your life.
Doing so will help you know yourself better.
It is an awesome way to practice self-love.
It won't take a negative toll on you.
You'll learn about your priorities in life.
The more you love yourself, the more you'll give to others.
You want to date yourself if you are:
A single woman looking to get a strong footing.
Someone in a relationship, looking to maintain her individuality.
A married woman looking to form a healthier relationship with her partner.
Someone who's just had a breakup and is feeling a little lost.
Ready to finally commit to yourself.
Basically, you want to date yourself, if you are a woman willing to find her true potential through self-love.
To get started, you need to spend time with yourself, doing little things that make you feel cute and awesome.
It's a perfect way to introduce yourself to the world of self-dating.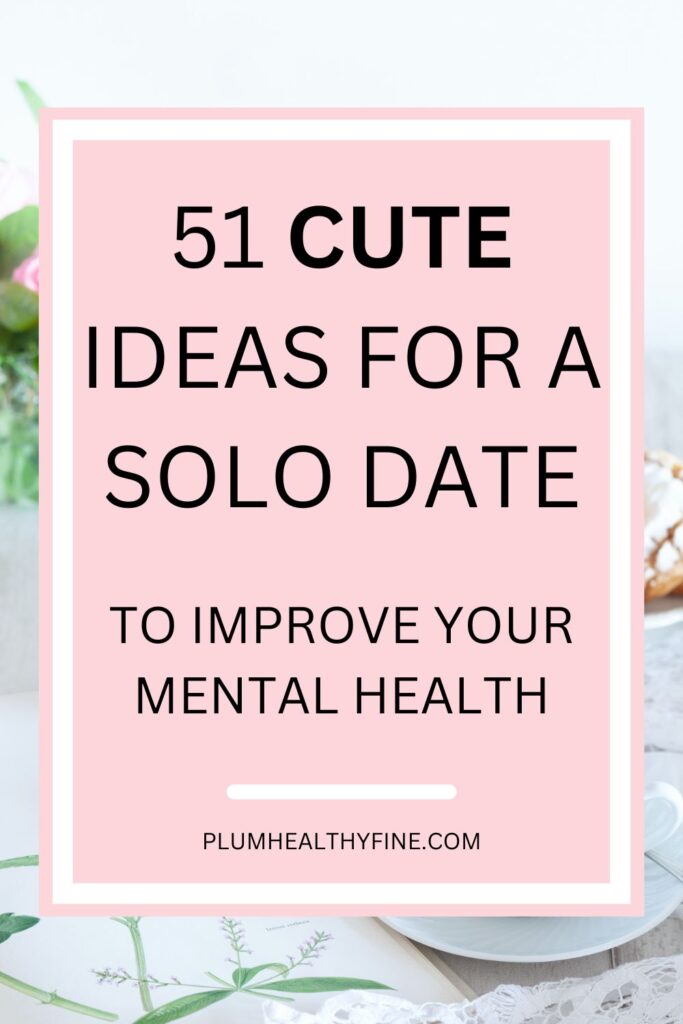 This post is all about the best solo date ideas that will inspire you to love yourself.
Hope you'll be able to make yourself feel loved and cherished. 🙂
51 Best Solo Date Ideas To Make You Love Yourself
I am so excited to share this list with you!
These are ideas I have tried and tested myself and can vouch for a good solo time.
Since we're talking about 51 date ideas here, I thought it'd be best to categorize things (say hello to my obsession with organizing, please.)
In this post, we'll look at:
Solo Date Ideas At Home
Cheap Solo Date Ideas
Free Solo Date Ideas
Feel free to jump straight to your favorite category (mine is always the one that costs me 0 bucks, so you might want to pay special attention to that.)
Solo Date Ideas At Home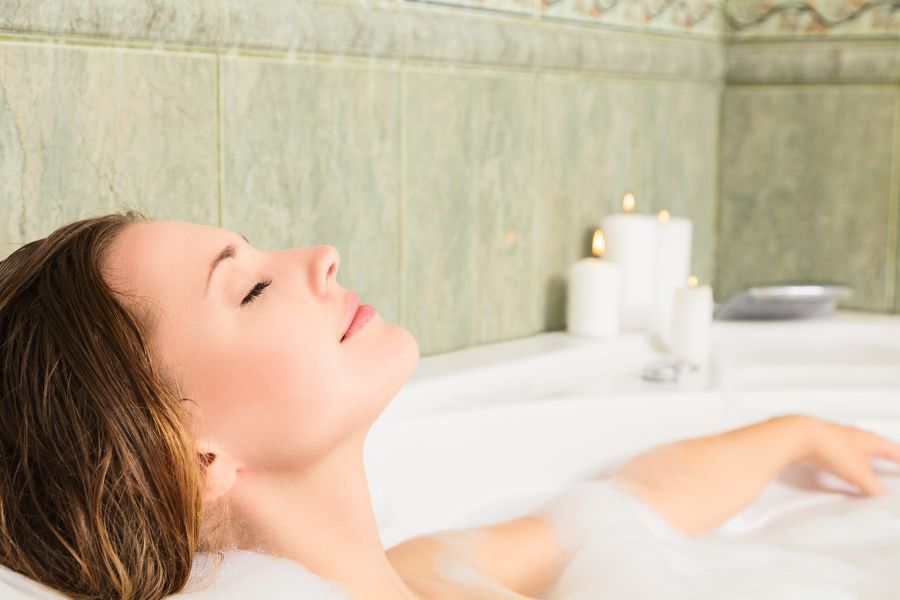 1. Cook yourself a nice meal, then enjoy it on a quiet evening at home.
2. Take a long bubble bath. Hit play on your favorite playlist and you soak in warm water after a long day at work.
3. Read, read, and read! Pick a book from your favorite genre and sit in your favorite spot at home for a reading session.
4. Conduct a breathing session for yourself. Create an appropriate atmosphere for it by lighting candles, playing meditation audio, and dimming the lights.
5. Declare a movie marathon night and make some popcorn to accompany you.
6. Give yourself a DIY facial. Play some light music, and light scented candles to add to the pleasant vibes.
7. Drink a cup of coffee/tea for some caffeinated good vibes,
8. Decorate an empty wall of your house. Allow yourself to be creative/silly/wild with your ideas. It's a fun way to summon the interior decorator in you.
9. Do absolutely nothing. Just sit back, relax, close your eyes, and give yourself permission to daydream.
10. Have an hour of creative session mapping a vision board. It's a fun and productive way to channel your inner artist.
11. Try meditation. It could help you tap into your calm energies.
12. Bake some delicious treats. If you're not good in the kitchen, turn to Youtube for help.
13. Click a picture of yourself, and have fun editing it using Canva. No editing skills are required, I promise. Just a fun way to experiment with your smiling face.
14. Make a DIY frame for your own picture. Put it on your table as a reminder to be regular with self-care.
15. Have a workout session to sweat out on the exercise mat.
16. Write yourself a long love letter. Use glittery stationery for this. It's a special person you're writing to.
17. Try different outfits from your wardrobe and click mirror pictures for your new profile image.
Bookmark now: 7 Types Of Self-Care (And How To Practice Them For A Better Life)
Cheap Solo Date Ideas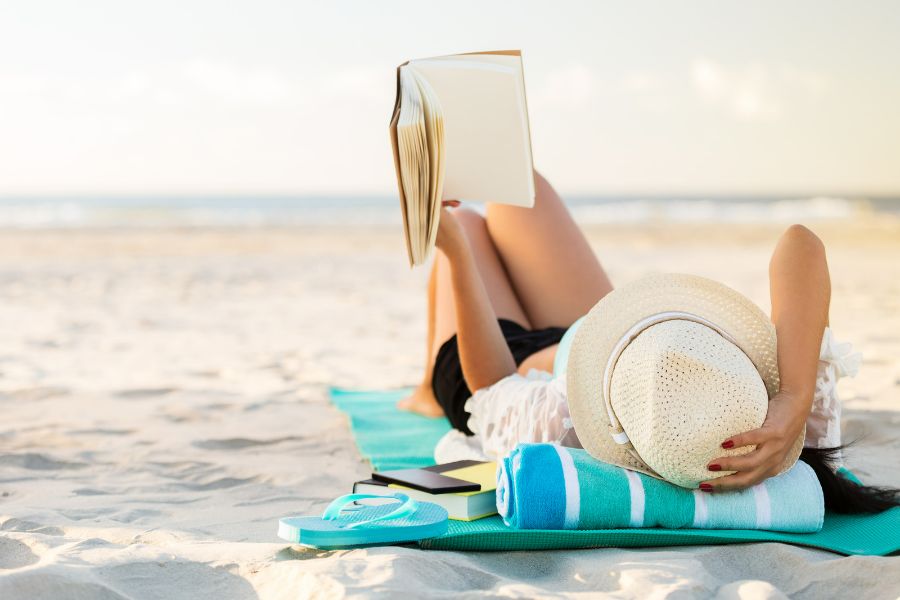 1. Grab a cup of coffee in a cafe. Carry a book or your laptop with you, and grab a window seat for an uninterrupted solo date.
2. On a sunlit weekend, grab a picnic mat and some fruits of your choice. Head to a park, and sit there to have a good time by yourself.
3. Go to the theatre to watch whatever is being performed.
4. Grow a garden for yourself. Do gardening whenever you're looking for some quality time.
5. Invest in a journal and have an hour of self-love journaling session. For some inspiration, pick something from this list of journal prompts.
6. Gift yourself a box of Ferrero Rochers and enjoy them over a movie.
7. Go to the movies alone. Buy yourself popcorn and your favorite drinks to turn it into a perfect solo date night.
8. Walk to your nearest bookstore and browse your favorite section. Buy whatever appeals to you. Come back, curl up in your bed, and binge-read your selection.
9. Visit a museum, an art gallery, or a planetarium.
10. Sit in an ice cream parlor and enjoy your favorite cone.
11. Go to a yoga or exercise class to show your body some love.
12. Visit a music store, and invest in one of the latest albums you feel like exploring.
13. Put on a flowy dress and take yourself to dinner at an affordable restaurant.
14. Buy a fruity shake and walk on the streets doing absolutely nothing.
15. Visit a local thrift shop and raid their latest collection for a cute outfit.
16. Ever tried painting? It might be just the thing you're looking to form a deeper connection with yourself.
17. And the best one – Go to a farmer's market and buy something appealing.
Popular on the blog: How To Become That Girl – 11 Amazing Hacks
Free Solo Date Ideas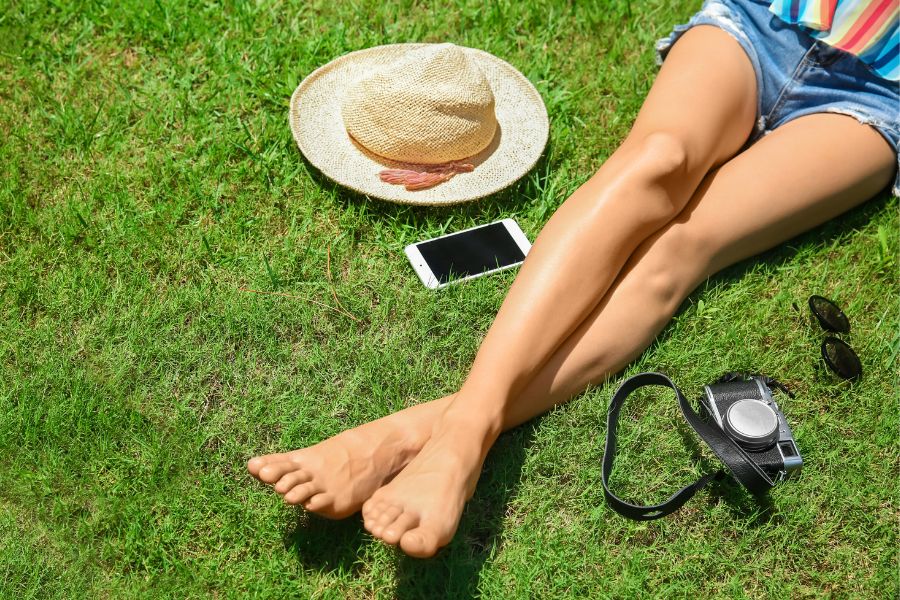 1. Create a bucket list for this year, and then create an action plan to check off every item on this list.
2. If you're looking to go wild, give yourself a haircut! (And yes, do this at your own risk.)
3. Go on a short solo hiking trip.
4. Take a sweet nap as soothing music plays in the background. Use a sleeping mask to improve the quality of your sleep.
5. Lay out a mat in your garden/rooftop at night, and do some stargazing. Plug in the music to make it even more beautiful.
6. Do half hour of yoga. It is by far the most therapeutic idea for a solo date.
7. Walk in your neighborhood and take in every little thing. You won't know the beauty you're missing out on until you do this.
8. Blast some music and dance your heart out.
9. Play fun puzzle games to give your brain cells a good shake.
10. Have a digital media detox to give yourself a mental break. Pick any other activity in this list that doesn't involve the use of your phone.
11. Listen to music with your eyes closed.
12. Do some sky gazing on a sun-free day. The clouds have many stories to tell, so listen and learn.
13. Go out for a fruit-picking session. Pick any seasonal fruit you love!
14. Take a long walk in nature. It's the best teacher and healer for your thoughts.
15. Grab a piece of paper, and write self-love affirmations to heal your spirit.
16. Use the internet to explore the life of a celebrity you admire. You'll gain inspiration from this.
17. Watch motivational youtube videos of a speaker you like, or discover new ones to follow.
Don't miss: 12 Amazing Ideas For The Best Self-Care Night Routine
These Solo Date Ideas Will Make You Feel Like A Queen
The 51 solo date ideas we've discussed will do wonders for your confidence and help you connect to your inner goddess.
I don't think there's a reason for you to delay anymore. Embrace the idea of self-dating and take charge of your heart.
It's time to don your self-proclaimed feather crown and start ruling your life.
Read next: 10 Unique Habits Of Healthy Women You'll Be Tempted To Try
Liked the post? Don't forget to drop a comment. It's always great to hear from beautiful queens.