Looking to inspire your inner self to make some healthy changes? Powerful words might be just what you need to fire up your spirit.
To celebrate the beauty of good health, I bring forth 120 positive health affirmations.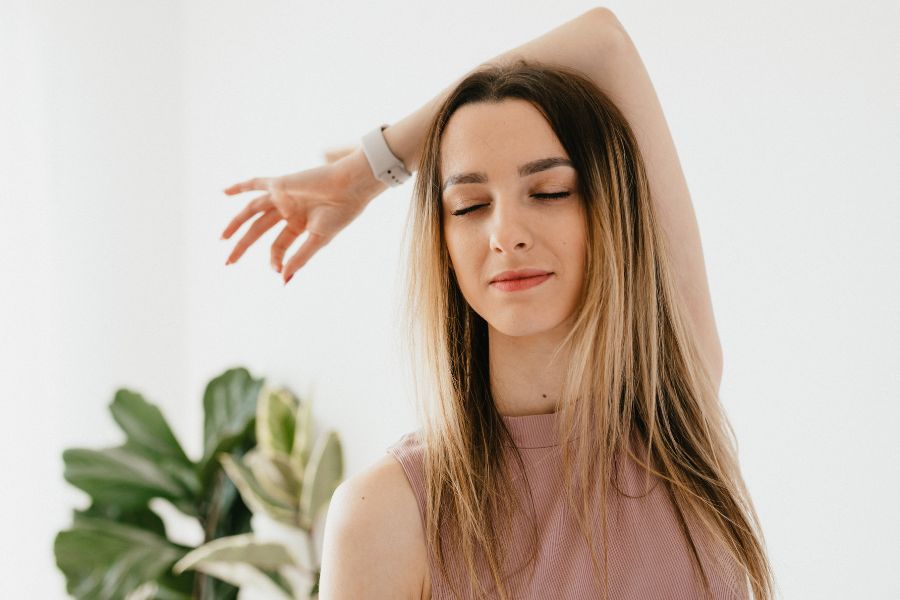 OVERVIEW:
Why Use Positive Health Affirmations (Do They Even Work?)
Owning a ton of intrinsic motivation is great. After all, nothing is brighter than your inner strength and determination. Though at the same time, there's absolutely no harm in seeking some magical dose of inspiration from the outside.
If you're a member of the Fine Club, you'd know that I love spreading sparkles of motivation. I seriously believe it to be one of my life's missions to inspire change within people (including myself, because I am not perfect either.)
And my absolute favorite way to go about this mission of mine is to pen down words that I know can leave a mark.
Positive Affirmations Can Help You
Remind you of your own strength
Raise your self-esteem to a healthy level
Say no to stress
Lift your mood in an instant
Feel loved by yourself
Reduce anxiety
Of course, just reading these affirmations might not be enough to successfully implement them. But they're great for any instant uplifting that you might be looking for.
In order to learn how to apply this list to your everyday life, keep reading till the end. I've left a few tips that you might find helpful in imbibing all the positivity into your routine.
Highly Recommended: How To Attain An Ultimate Body Wellness
120 Positive Health Affirmations For A Fresh And Powerful Way Of Life
This post is all about positive health affirmations! I've got 120 of these listed below that I think will shift your thoughts, little by little, until you feel healthy and fine.
For better categorization, I've divided this section into 6 parts:
Affirmations for getting healthy
Mental health affirmations
Affirmations for healthy eating
Physical health affirmations
Health affirmations for others
Morning affirmations for health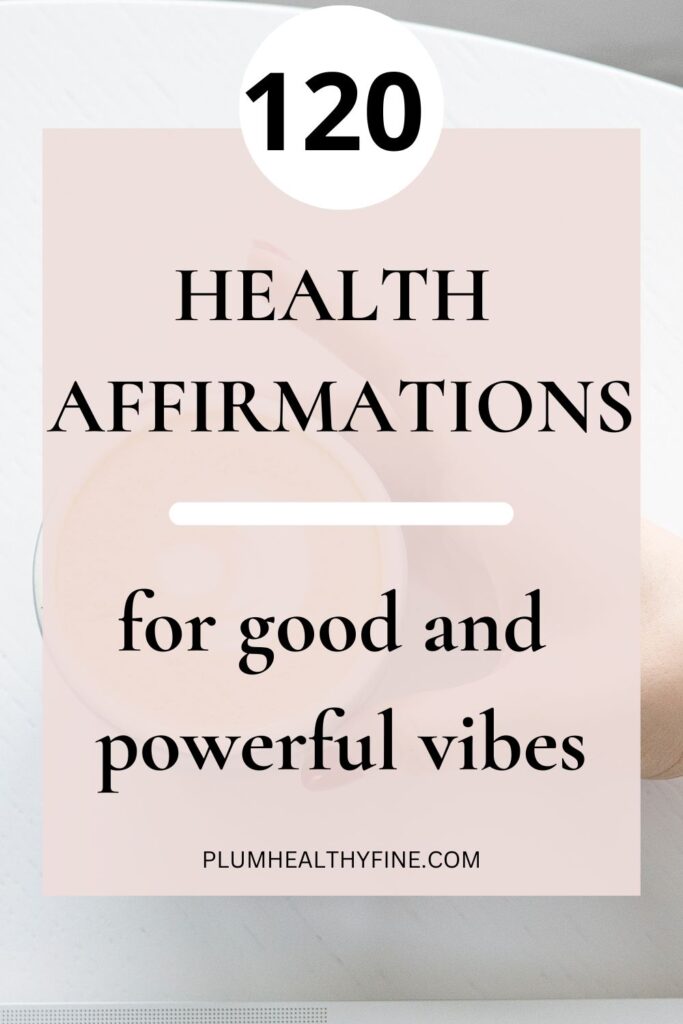 For an extra boost in your health journey, pick on these words till you feel great about yourself. You might just turn that fire into a blazing inferno. 😉
Here's toasting (green tea, of course) to your great life. Have a happy time reading!
POSITIVE HEALTH AFFIRMATIONS FOR GETTING HEALTHY
I accept, love, and value myself in my current form.
I would love to make little changes in life, to make myself stronger and healthier.
I understand the importance of good health.
My inner strength is way beyond what I imagine it to be.
I am powerful enough to achieve my fitness goals.
I know how to mix hard work and gentleness together for the best results.
I deserve to own a healthy and bright lifestyle.
I prioritize my health over everything else.
My body is where I live, and so I promise to treat it as a sacred place.
I am optimistic about my health goals.
I will enjoy my health journey every step of the way.
It's okay to dream of a healthier body.
I am grateful to have the ability to stir change.
It's amazing how there are no limits to how far I can go.
I love feeling healthy and fine.
I know how to connect my soul to my mind, making them work together for a healthy body.
I choose to be healthy for myself, not for others.
I am in complete charge of my life.
It's okay if I don't want to chase another version of myself.
I am blessed and loved the way I am.
MENTAL HEALTH AFFIRMATIONS
I value everything that makes me who I am.
I promise to take life one sip at a time.
I fully acknowledge my healing tendencies.
I have strong mental boundaries.
I find joy in little things in life.
I trust myself to evade negative thoughts.
I love every little part of myself.
I know how to practice self-care.
I am kind to myself.
My mental health is a priority.
I listen to my inner voice and trust it to guide me in life.
I am okay, and I always will be.
Mind, body, and soul are the three things that bind me. I care for each of them equally.
It's good to forgive myself. Nobody else gets to have a say in this.
I know how to handle myself in overwhelming situations.
I am one of a kind.
There is nothing in this world that can put me down.
I know how to heal my scattered thoughts.
I allow myself to let go of my fears.
I choose to be calm.
AFFIRMATIONS FOR HEALTHY EATING
I like hydrating myself because water is the essence of life.
I pick fruits and good things over anything at all that makes my stomach unhappy.
I am in tune with my body's needs.
It feels great to eat well, and indulge at times to satisfy my inner child.
Mindful eating is an art, and I would love to master it.
I know how to listen to my gut.
Healthy food options are all around me.
I vow to feed myself food that makes my body thrive.
I am a slow and mindful eater.
I aim to build healthy food habits, for the simple sake of having a balanced lifestyle.
I discard the unhealthy idea that 'I am what I eat.'
I am so much more than my eating habits.
I enjoy taking my meals on time.
I am defined by the choices I make and the feelings I own in my heart.
I am willing to leave my bad eating habits behind. They don't add any value to my life.
I act mindfully while buying, preparing, serving, and eating my food.
I will sip a cup of herbal tea every day. It rejuvenates my body.
I want to soak the goodness of vegetables on a daily basis.
Protein heals and repairs my body.
I don't mix my emotions with my food.
PHYSICAL HEALTH AFFIRMATIONS
Exercising is a choice I make, rather than something I have to do.
Pushing my physical limits makes me feel strong and I love feeling this way.
It feels good to feel good and feels great to feel strong.
Breathing is a powerful tool I own, and I make use of it as often as I can.
I love taking up workout challenges.
I like when I'm vibrant and strong.
I want to incorporate fitness into my daily routine.
I feel at my greatest when I am sweating.
My stress disappears after a good workout.
I am resilient.
Staying active all day is a perfect way to stay healthy.
I choose to step out of my comfort zones.
I enjoy walking in green areas.
Nothing stands between me and my body's wellness.
It's fun to explore different activities that can get me closer to my goals.
My body is filled with good vibes.
I carry healing energies inside me.
I have strength and power.
I draw positivity from mother nature.
I rest my body by sleeping well at night.
HEALTH AFFIRMATIONS FOR OTHERS
You are awesome the way you are.
I believe in your capabilities.
You are unique in your own way.
You can be whoever you want to be.
I am amazed by your strength every single day.
I wish you all the wellness and good health in the world.
When in doubt, remind yourself why you started.
You are in flow with your life.
Don't allow others to put you down.
You can do whatever you set out to achieve.
Success comes to those you who believe in themselves.
It's okay to prioritize yourself above others.
Self-care is not selfish.
You are a miracle.
Your immune system protects you from harm.
I trust you to look after your needs.
Follow your own voice.
Know you can do it.
Never let yourself give up on your body.
You are beautiful, inside and outside.
MORNING AFFIRMATIONS FOR HEALTH
Every morning, I wake up with a fresh mindset.
I stay calm through the early hours.
I connect myself to the sun every day.
I love greeting myself with a smile in the mirror.
Re-affirming positivity is a part of my morning routine.
I have time to breathe and stretch.
I plan to own and seize the day.
I open myself to new opportunities.
Peace surrounds me.
I care for myself.
I am in control of my day.
I choose to be motivated by myself.
I have everything I need to be content.
Today will be a good day.
I'll make it happen.
I am in command of my breaths.
I own who I am.
The sky is the limit.
I nourish myself with good morning food.
Inspiration is everywhere, and I look forward to finding it.
How To Successfully Use These Positive Health Affirmations
Here's the thing. I am not writing this post just for the sake of filling up my blog. With every post that I create, I aim to give the reader the best experience. I truly, really want you to leave this page having learned something valuable.
And let me tell you this – just skimming through inspirational words won't help you find healthy changes. I wish it could be the case, but it isn't.
Motivation means nothing until you act on it
That's why you need to do this to make the best of these affirmations.
Wake up every morning, and pick one affirmation from this list. Write it down on paper that you can carry for the rest of the day. The words you pick will be your motto for the day.
Repeat your daily affirmations in your head every time you need to feel healthy. Another thing you can do is use these affirmations in your journals. The best way to nail down an affirmation is to write it in your journal.
You can do this at the end of the day, or choose to start your mornings like this (if you happen to be a day journaler.)
You might find this useful: 50 Bedtime Journal Prompts For A Quiet Reflection
The More You Seek Positivity, The Better You'll Imbibe It
So, never stop looking. Being healthy is a choice, and affirmations are perfect ways to help you make this choice.
Pick a few affirmations from this post, and try implementing them into your life using my recommended methods.
Liked the post? Don't forget to share it! It helps me spread positivity. 🙂
If you're leaving this post feeling uninspired, drop a complaint below. I'll take it straight up to the authority. (Kidding, nobody's up there. It's all me.)
But seriously, write to me, if you have a few seconds. I'll respond with loads of love and good wishes.