Have you been brainstorming for some healthy morning routine ideas? We'd love to jump on board and help you out! Read this post to steal some of the best morning tips and learn how to start your day right.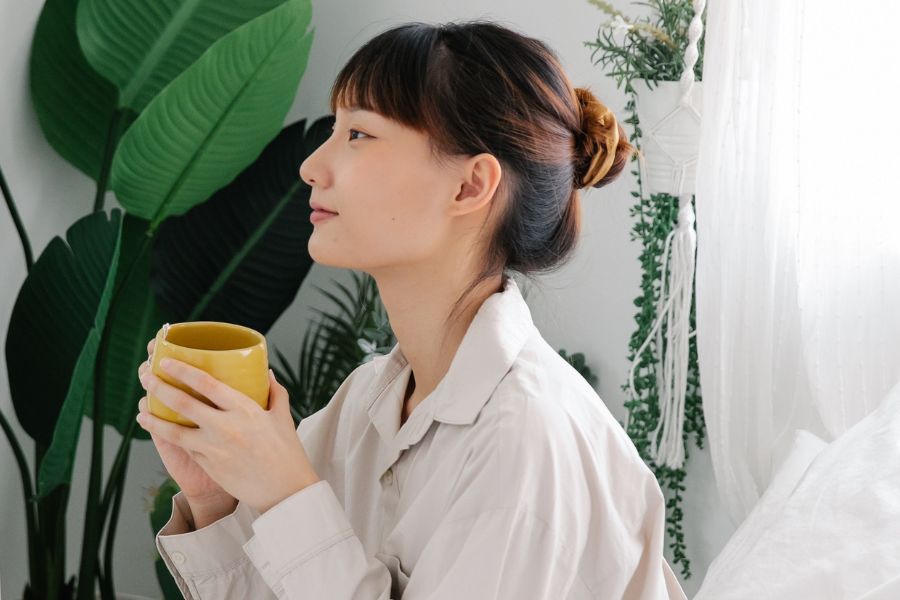 There is little doubt that morning is a beautiful time of the day. It is the point of time when nature is at its peak and humans are most productive (if they choose to be.)
A long time ago, one of my uncles suggested I wake up at 4 to study. I was looking to make healthy changes in my life, so I found this tip worth giving a shot at.
It took me some time, but I managed to build a solid morning routine, that changed my life in more ways than I can count.
How you spend your mornings says a lot about your life.
Waking up on time, and following a particular morning schedule is a sure-way step toward setting yourself up for success.
For a better understanding, let's take a closer look at the beauty of morning routines.
What's A Healthy Morning Routine
In simple and sober terms: A healthy morning routine is one that makes you feel your most confident self.
There is a gaping difference between sleeping till noon and waking up at the crack of dawn. The former might make you feel lazy, while the latter is invigorating and refreshing.
Any morning activity that sets you up for a successful day can be and should be included in your routine.
Benefits Of A Healthy Morning Routine
I could honestly write a whole book on this topic. The benefits of having a beautiful morning routine are as vast as the sea.
Let's have a look at some of the most prominent ones.
From personal experience, these are the advantages of implementing healthy morning routine ideas in your life:
A morning routine raises your chances of success.
It makes you feel in control of your life.
You start owning your routine.
Healthy morning habits give you boss-level confidence.
You gain strength and resilience.
It makes you responsible.
You start building overall healthier habits.
A lot of space for self-improvement and growth.
And my favorite one – you get glowing mental health. 😀
Liking the post so far? Pin it now to save for later.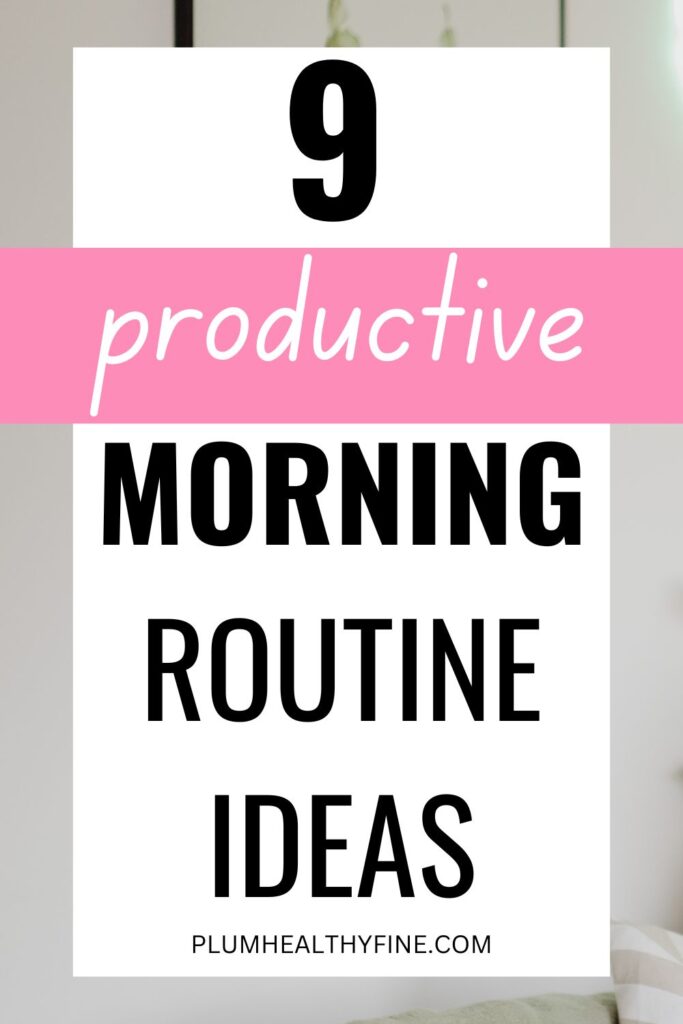 This post is all about healthy morning routine ideas that will change your life.
These are the tips that I follow personally and hence swear by for a healthy life. I really hope you'll find some inspiration from this post, and implement these ideas to build happy morning habits.
Let's get started!
9 HEALTHY TIPS FOR MORNING ROUTINE
1. Wake Up Early
Benjamin Franklin was on to something when he declared that early to bed and early to rise makes a man healthy, wealthy, and wise.
If you're intent on your mission to build a healthy routine in the morning, then first and foremost, learn to wake up on time.
This habit might take some effort to build, but the end result is worth it all.
By waking up on time, you set yourself up for success for the coming day, which ultimately beautifies your overall life.
You'll find yourself full of energy, inspiration, and positive intentions to be a better version of yourself.
To become a pro at waking up at the crack of dawn, read my detailed post on how to become a morning person. It has 10 amazing tricks that will turn you into a fan of getting off your bed before 6 AM. 😉
Also read: 5AM Morning Routine For A Fresh Start Of The Day
2. Drink Warm Water
Next up on this list of healthy morning ideas is my kind advice to drink warm water.
There's a lot of accumulated junk in your gut from the day before. And you need to flush these toxins from your body first thing in the morning.
Your best and healthiest bet against these harmful substances is a glass of warm water.
Water is a refreshing source of energy that has a larger purpose than just quenching your thirst.
It is a super positive way to rejuvenate your insides and fill yourself up with positivity.
If there is magic on this planet, it is contained in water.

-Loren Eiseley
Don't let this magic go to waste. Start your morning hours with a glass of water and drink enough of it throughout the day for your body's wellness.
A Post You Might Find Helpful: 5 Amazing Drinks To Reduce Bloating
3. Imbibe Positivity
Morning positivity is the strongest form of self-empowerment you can tap into.
It's the time of day that marks a fresh beginning, and it's up to you to set the tone for the rest of your time.
You have two options – Just go through the motions of your morning routine, or take a few minutes to fill your mind with positive thoughts.
The former will do nothing for you, while the latter will make all the difference in how you perceive your life.
So, don't waste the first few minutes of your morning. Instead, include a morning healing session in your routine.
Read a book that inspires you to be the best version of yourself, or use positive health affirmations for self-motivation.
Related Post: How To Be A More Positive Person (10 Mindful Habits)
4. Set Your Intentions For The Day
Done loading yourself up on positivity? It's time to use these good vibes to set motivating goals for your day.
Doing so will make you feel responsible for accomplishing your daily tasks, leaving little space for procrastination.
By setting daily intentions, you hold yourself accountable to see your goals through till the end.
Don't just conjure up vague ideas in your head. It might not be enough to keep you going.
Instead, write down your daily goals, and speak them out loud for self-confirmation. This truly is the best use of waking up early and turning the tide of your day.
Don't Miss: 7 Morning Habits Of Successful People That Set Them Apart
5. Hit The Road For A Morning Walk
You might not want to, but you are going to learn how to get your body moving in the morning.
Why?
Because it's a golden hour to work out!
After sleeping the whole night, your body needs some amount of exercise to rid itself of any soreness and jammed muscles.
I say hitting the road might be your healthiest resort. Check out these 5 amazing benefits of morning exercise that make my mornings super healthy.
Save your gym and home workouts for the evening, and step outside for mornings walk to expose yourself to fresh air.
This can be your powerful way to connect to nature and your inner self.
An early-morning walk is a blessing for the whole day. 

-Henry David Thoreau
Having trouble convincing yourself to move? Learn how to motivate yourself to workout when you're stuck in a rut.
Similar: 10 Unique Habits Of Healthy Women You'll Be Tempted To Try
6. Greet The Rising Sun
If you've decided to add morning walks to your routine, try to adjust the timing in a way that you get to meet the rising sun somewhere on your route.
Morning sunlight is extremely good for your skin and eyesight. It also carries with it a positivity that your soul will appreciate.
In my country, many people offer cups of water to the rising sun while offering their prayers.
We do this to acknowledge the power of the Sun in running this world and ask for a continuation of this energy to sustain all living beings.
Include a similar ritual in your morning hours, and your mind, body, and soul will thank you for this. 🙂
Worth Reading: How To Become That Girl – 11 Amazing Hacks
7. Take A Shower
If you save body cleansing for your evening routine, you might want to reassess this habit.
Showering in the morning is important to break yourself out of your sleep haze. It helps you raise your alertness, and increases your focus for the rest of the day.
Your hygiene also demands you start your schedule with a proper shower routine.
Wash your face for a minute, brush your teeth, and use a healthy body lotion to bathe yourself.
Use a shampoo that suits your hair type and weather condition, and later moisturize the dry parts of your body.
Doing all these steps will make you feel beautiful and also give you a huge boost of confidence (something we definitely need before stepping out of the house.)
Bookmark For Later: 11 Bad Morning Habits You Need To Quit
8. Pray For Strength And Healing
I have recently started praying in the mornings and have found this to make a huge difference in my mindset.
I've always believed that there is no harm in acknowledging a higher power that runs this world.
In fact, doing so makes you feel human, and allows you to forgive yourself for any mistakes you might make.
Praying for strength and healing can be humbling and satisfying.
It provides you with strong beliefs in your capabilities, which is highly important for self-growth and personal development.
So, take a few minutes in the morning to bow down to God, or your own higher self.
It won't take you long, but might as well turn out to be the one thing that shifts your perception of life for the better.
Related Post: 121 Positive Affirmations For Mental Strength To Make You Fearless
9. Have A Protein Filled Breakfast
End your morning routine with a healthy, protein-filled breakfast.
Protein is an ideal way to begin your food journey and keep yourself healthy. It is said to have healing tendencies for both your body and your mind.
Not including it in your diet is actually an injustice to your wellness, and I am going to convince you of this.
A protein-rich breakfast has the following golden health benefits:
It keeps you full all day long
Helps in weight maintenance
Promotes muscle growth
Keeps your heart healthy
Reduces your chances of overeating during your next meal
Heals and repairs your body
Curious to know about some other healthy eating habits?
Read about 8 healthy food habits that you need for a beautiful lifestyle (and also learn how to successfully build them.)
You Might Also Like: How To Create A Blissful Summer Morning Routine – 8 Refreshing Steps
This Is The Best Morning Routine To Start Your Day
Turn these healthy morning routine ideas into habits that you can't do without.
Wake up on time and drink a glass of warm water. Practice positivity and set true intentions for your day.
If possible, go out for a walk and say hello to the sun. Come back and take a shower.
Pray to a higher being for good thoughts and finish off with a healthy breakfast. 🙂
Think I missed something? Think of 2 healthy morning routine ideas that you love practicing, and write to me in the comment box.